ESOT is delighted and proud to announce the newest and highest recognition from our society: the ESOT Legacy Award!
The ESOT Legacy Award acknowledges truly outstanding and sustainable achievements and the most exceptional long-term contributions of an individual or organisation in one or more of the fields of organ, tissue and cell donation and/or transplantation.
The Award replaces the Honorary Membership, and recognises achievements across one or more of the following domains:
Research (basic, translational, clinical)
Clinical advancements
Training and education
Organisation and governance
Social impact
Further information can be found on the rationale for bestowing this new accolade, as well as the inclusive and robust process that will be used to select the Award winner.
Importantly, YOU can be an active part of this process by nominating an individual or organisation that, in your view, meets one or more of the criteria for the Award. Submit your nomination via the button below. The deadline for nominations is 17:00 CEST on 10 April 2023.
Starting with the ESOT Congress 2023, taking place in Athens this September, we are looking forward to celebrating and recognising the exceptional accomplishments of ESOT Legacy Award winners for years to come!
We look forward to receiving your nominations.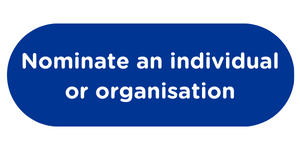 #PoweredByESOT